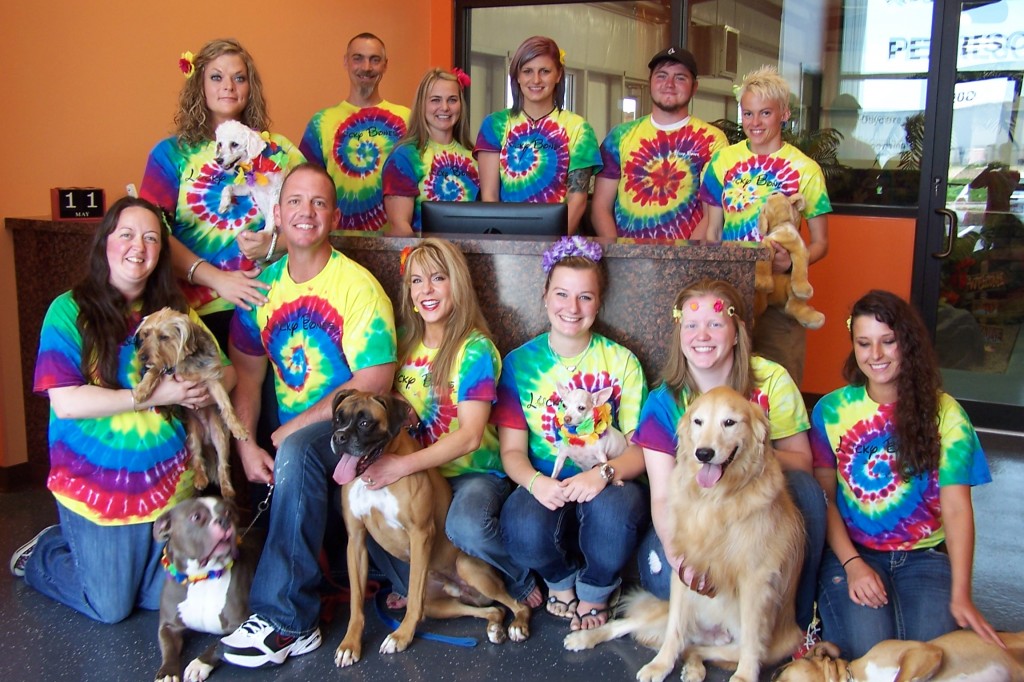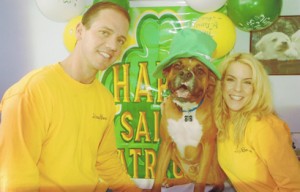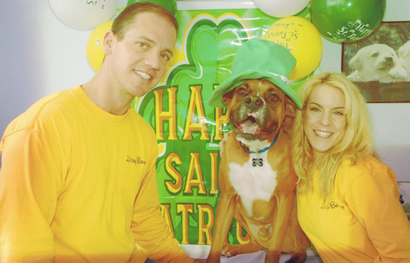 Lucky Bones Inc. was established in 2004 by owners Pat and Kelly Santarelli.  Our founder, Jaeger Meister Santarelli, had a major impact on the start of this business.  His memory will live on forever.
Our staff consists of many great personalities and a variety of interests.  One thing we all have in common is the compassion for animals.  We hire top notch staff that provide our clients with only the best possible care for their pets.
Lucky Bones Staff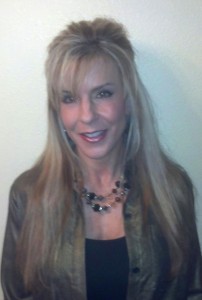 Kelly Santarelli 
I have always had a strong passion for animals.  Growing up we always had dogs, all which we adopted, and I cannot imagine ever being without.  When I was younger I thought for sure I would be a Veterinarian.  Life, however, took me in a different direction.I tried to be as active as possible by volunteering time at our local animal shelter while attending school and working several jobs.  In 2003 I started taking my boxer Jaeger to daycare and I was totally amazed with the whole experience.  I immediately knew I found a way to do something I enjoyed and at the same time I was able to help other parents of pets take advantage of such a great concept.  I also wanted to  provide a fun environment for dogs being  kenneled.I take great pride in giving all the dogs their own vacation while the parents are having theirs.  After several months of research and planning, we opened our doors July of 2004 and I have been blessed with both a wonderful staff and fabulous customers.  My dream is to continue to provide a service I find so much joy in doing.  There is nothing better than seeing those happy faces and getting all those hugs and kisses from my furry friends.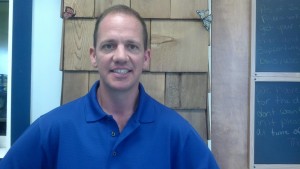 Pat Santarelli 
Outside of always being an animal lover my background consists of pursuing a degree in architectural engineering. I worked for the gas industry as a construction coordinator and have been in the building industry since 1993.
I have used the skills I've learned to help create the design of our new facility resort. My goal was to make all the pets a place to stay that would be like a vacation for them. I will be bringing my sense of humor to help make a fun environment for our staff and I will be utilizing my management skills to maintain an efficient running facility. My belief is that average is not good enough. I want only the very best for our clients.
My family consists of a beautiful wife and 2 furry kids, Howie and Leo.

David – Canine Behavioral Counselor, Team Lead
I finished college with a BA in Anthropology, fully intent on advancing down a teaching path. Instead, the computer skills I picked up due to my PC gaming habit made it very easy to slide into the world of Information Technology. Administering mainframes and QA testing financial data software was mentally challenging and lucrative, but ultimately, for me, kind of soul crushing. I knew I had to make a drastic change. I had had a romantic notion of working with wolves in some way since an early age and while seriously pondering how to make that happen, circumstance suddenly made it quite clear to me I should be working with dogs!
Anthropological data shows humans and dogs have been benefiting one another for tens of thousands of years. We can in fact attribute some of our success as a species to our relationship with dogs. My own life has certainly benefitted from having them in it. Of the ten dogs that have been part of my family over the years, two in particular are responsible for me being where I am today: our little rat terriers, Spencer and Jake. They lived to eighteen and seventeen respectively and Spencer…well, he meant the world to me. It was near the end of their lives that Cesar Milan first appeared on TV with his show: The Dog Whisperer. Though my boys had lived a good long time, I began to learn just how much better I could have made those lives!
I am driven now to make a positive impact on the lives of dogs and I found my place here at Lucky Bones. I've been blessed not only to have been able to work with and study a tremendous number of breeds here for the past several years but to have also been provided training in understanding canine body language and the dynamics of off-leash group play. Ultimately it is my goal to use and share what I've learned to not only send home tired and happy dogs, but through them to create a little extra peace and happiness in their families.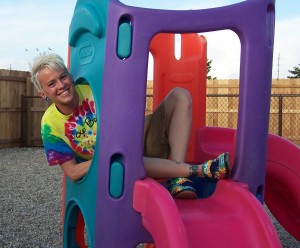 Jill – Office Manager
I grew up in the small city of Orrville, Ohio with an older brother and a younger sister. I attended Defiance College, playing softball and receiving degrees in fine art and graphic design. After working in the graphic design field for nearly 5 years I decided to relocate to Columbus at the end of 2008. In 2009 my two dogs, Halo and Cupcake, inspired me to apply for a job at a nearby doggie daycare and I quickly fell in love with the dogs and my new found career. I joined the Lucky Bones family in March of 2014 and am really enjoying getting to know the clients and their pets. I love it here!
When I'm not at work I can usually be found playing softball or spending time with my pups.

Sandee – Groomer
I grew up in London, Ohio and have always had a passion for animals. I knew very early on in my life I wanted to work with them, and as I grew older I decided I wanted to focus my career on working with dogs specifically. I started working at a breeding kennel at the age of 15 and during my time there I began my training as a dog groomer. I was given the opportunity to join the Lucky Bones staff in 2011, helping care for the pets. I was able to step up to grooming here almost two years ago, and absolutely love making our furry friends look and feel their best.
In addition to grooming I am also heavily involved in the fitness world. I have competed in a few bodybuilding shows and plan on going pro someday. Whether it's grooming or fitness, I pride myself on setting a goal and doing whatever is necessary to achieve that goal.

Beth- Team Lead
I was born and raised in Columbus, Ohio. I am the youngest of 4 children. We were taught growing up to love and respect all living things and that has stuck with me my whole life. As a child our friends and family always referred to our house as the "Kool-Aid Petting Zoo" because our house was always full of neighborhood kids and lots of pets. We usually had around 20 animals from dogs, birds, snakes, hamsters and anything we could give a good home to. You name it, we had it.
I graduated from Reynoldsburg High School and went right into child care and after 12 years of that I found Lucky Bones. I am so happy to have been hired on and made a part of the Lucky Bones family. I started in the summer of 2012 and have met so many great families and their dogs have made me so happy. I couldn't be happier!