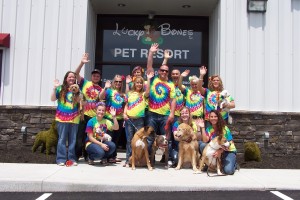 Lucky Bones is located in Canal Winchester, OH offering a fun, safe, and unique environment for our four legged family and friends. Our service includes daycare, boarding, bathing, training, and a few select and different retail items. We offer our clients a guilt free day knowing their dogs will be in the best of care in a professional atmosphere. We provide top notch care to the pampered pets and peace of mind to the owners with personalized attention to each and every dog

Facility: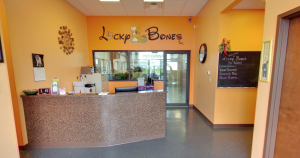 At Lucky Bones Inc., our philosophy is to treat each and every dog as if it was our own. We make our facility a home away from home for the dogs. Our goal is to give our clients peace of mind knowing their pampered pets will be given top notch care. We strive to create a fun, comfortable, and unique place for pets to enjoy within a clean and safe environment. Lucky Bones gives you the opportunity to have a guilt free day knowing your dog is in the best hands. We will care for your dog in a fun and safe environment. The dogs are supervised at all times and they will receive plenty of love, attention, and exercise, which they need. The presence of other dogs allows for enhanced socialization and improved social skills. With the freedom of a flexible schedule, you will have peace of mind knowing your pet is having a wonderful time, without the fear of messes at home. At the end of the day, you and your pet can enjoy a relaxing evening at home.

Services:

Hours:
Monday – Friday: 7am – 6:30 pm Saturday: 9am – 12:00 pm Sunday Hours: 3pm – 4pm DROP-OFFS ONLY 4pm – 6pm PICK-UPS ONLY Excludes holiday's when we are closed in observance of the holiday. * Closed on the following Holidays: New Years Day – Easter – Memorial Day – Independence Day – Labor Day – Thanksgiving – Christmas No Pick-up, drop-offs or daycare on Holidays. We will have special hours of pick-up/drop-off on the days before certain Holidays and Day Care will be closed or limited to a certain number of dogs, so please call to check our hours of operation prior to & just after a Holiday. *Credit card Holds are required for all new clients for the busy summer months & new grooming clients, or you may drop off a refundable cash deposit of $68 to secure your reservation. We have a 48 hour cancel/no show policy. If you do not cancel within 48 hrs of your appointment & do not show up a $68 charge will be applied to your card for the lost use of space.

Links:
Froggy's Sweets and More Froggy's Sweets & More is focused on providing high-quality service and customer satisfaction! My31 Page Alyssa Good, Consultant Sweet Pet Treats Healthy, tasty pet treats!